MISCELLANEOUS
NONINVASIVE REMOTE-CONTROLLED RELEASE OF DRUG MOLECULES IN VITRO USING MAGNETIC ACTUATION OF MECHANIZED NANOPARTICLES.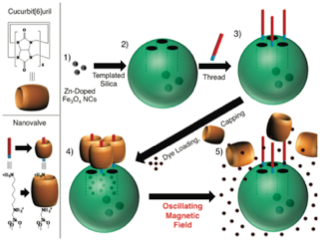 Magnetic nanocrystals have the ability to exhibit hyperthermic effects when placed in an oscillating magnetic field. In a system combining magnetic nanocrystals and a thermally sensitive gatekeeper, a unique drug delivery system can be produced.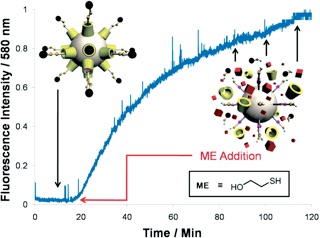 This machine relies on the reductive cleavage of disulfide bonds within an integrated nanosystem. When reductive chemistry is performed, the result is the snapping of the stalks of the rotaxanes, leading to cargo release from the inside of the nanoparticles.
ENZYME-RESPONSIVE SNAP-TOP COVERED SILICA NANOCONTAINERS.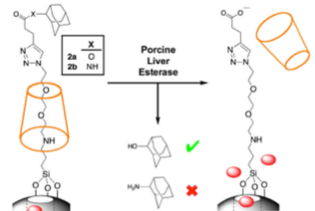 Snap-tops attached to the surface of mesoporous silica nanoparticles are able to store guest molecules within the pores while intact. Guest molecules are released upon selective cleavage of ester-linked adamantyl stoppers by porcine liver esterase (PLE).