REDUCTION/OXIDATION
PEPTIDE MODIFIED MESOPOROUS SILICA NANOCONTAINERS.
Oligopeptides are part of this nanovalve system in peptide modified mesoporous silica nanocontainers for the controlled release of drugs. The peptides decorating the surface of the particles have two functions: to act as stimuli responsive nanovalves and to ensure efficient cell uptake. The peptide sequence used in this study has a high selectivity towards cellular membranes and at the same time allows the suspension of the silica nanocarrier in water solutions in order to perform in vivo studies.

REDOX- AND PH-CONTROLLED MECHANIZED NANOPARTICLES.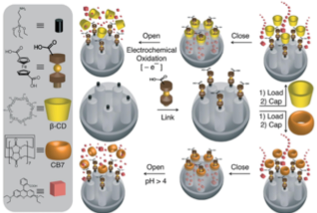 The system operated successfully under pH control (deprotonation of ferrocenedicarboxylic acid at pH = 4) in the presence of cucubit[7]uril, and redox control (oxidation of ferrocenedicarboxylic acid) in the presence of β-CD.
DESIGN AND OPTIMIZATION OF MOLECULAR NANOVALVES BASED ON REDOX-SWITCHABLE BISTABLE ROTAXANES.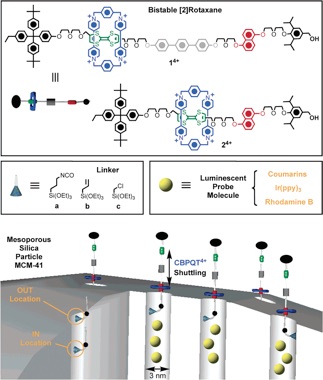 Redox-switchable [2]pseudorotaxanes and bistable[2]rotaxanes, having a cyclobis(paraquat-p-phenylene) (CBPQT4+) tetracationic ring, can be tethered to porous silica thin films and to MCM-4114 to act together as supramolecular and molecular nanovalves, respectively. In addition, a supramolecular nanovalve system (switchable pseudorotaxane) based on dibenzo[24]crown-8/dialkylammonium ion complexation that responds to a range of bases.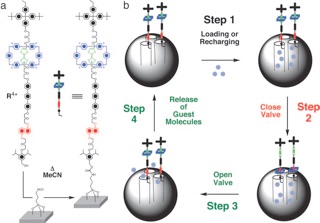 The rotaxane-modified MCM-41 constitutes a class of organic-inorganic hybrid nanoparticle that utilizes the mechanical movement within a mechanically interlocked molecule to control trapping and release of guest molecules. The valve is controlled by simple redox chemistry with mild redox reagents.
AN OPERATIONAL SUPRAMOLECULAR NANOVALVE.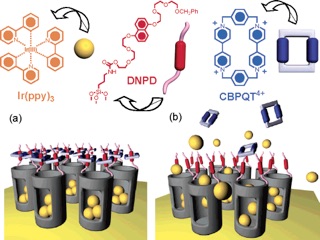 A functioning nanomachine in the form of a supramolecular nanovalve that opens and closes the orifices to molecular-sized pores and releases a small number of molecules on demand is reported.
WORKING SUPRAMOLECULAR MACHINES TRAPPED IN GLASS AND MOUNTED ON A FILM SURFACE.

Light-driven dethreading in aqueous solution of the [2]pseudorotaxane (BHEENCBPQT4.) by excitation of the external photosensitizer, 9-anthracenecarboxylic acid, in the presence of a sacrificial reductant. Dioxygen is used to effect rethreading.